Using Squarecap to Improve Both Student Grades and Instructor Ratings
by Stephanie Klenzendorf, M.Ed., on Jun 8, 2018 5:24:16 AM
When the National Commission on Higher Education Attainment released its findings in April of 2012, it addressed the ways that faculty engagement can enhance student retention and persistence. It also highlighted the importance of faculty-student engagement and expressed an increased need for professional development opportunities that facilitate instructional effectiveness through the improved use of technology. (Rhodes 2012)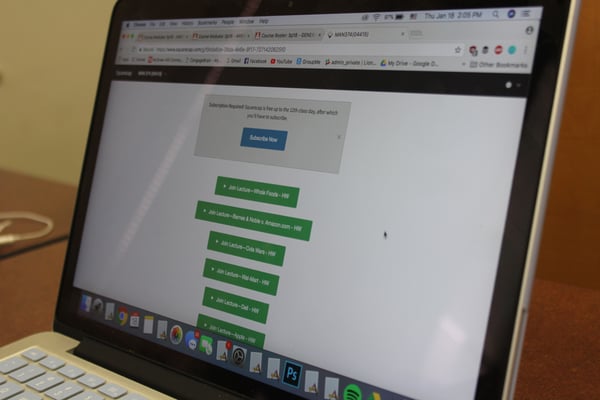 On the forefront of this new frontier of education is the use of interactive classroom response systems that remove the intimidation factor imposed by large class sizes and encourage participation by engaging students with the technology they are already bringing to class. This data-driven approach to higher education is actively used by educators to increase faculty-student engagement across the nation at institutions such as The University of Texas at Austin.
One of the most accessible and most cost-efficient technologies available is Squarecap, a web-based classroom response system that requires no extra hardware and uses the Wi-Fi in which students are already connected. It is used by professors to engage their students with content questions, initiate classroom discussions, track attendance, conduct formative assessments and provide instant feedback to students with misconceptions.
The question statistics feature can guide classroom discussions by allowing professors to instantly know if the students understood the concepts that were taught. There is also a seat map feature that makes it possible to engage struggling students with one-on-one discussions to get them back on track. The anonymous Q&A button encourages participation without intimidation by allowing students to ask for clarification on topics when they would typically have remained silent.
Is this technology effective?
To examine the positive impact of increased faculty-student engagement through the use of Squarecap, University of Texas Austin researcher Hye Sun You conducted a preliminary study that examined the effectiveness of this technology use on student grades and course instructor evaluations.
This study used 27 instructor evaluation ratings and the grade distribution of the students in their courses. The instructors adopted Squarecap for the same courses taught in Fall of 2014 and Fall 2015.
Data for instructor evaluations and grade distributions were provided by the Center for Institutional Effectiveness at The University of Texas at Austin. The percentage differences were calculated to demonstrate the impact of the magnitudinal changes in instructor and course evaluations, and students' grade distributions between Fall 2014 and Fall 2015.
In the first semester Squarecap was used, the findings indicated that the percentage of A's and B's awarded increased by 1.41% and 0.37% respectively, while the percentages of C's, D's and F's awarded decreased by 3.97%, 1.04%, and 0.01% respectively. The instructor evaluation ratings increased by 1.5%, the course evaluation ratings increased by 0.72%, and the overall evaluation rating also increased by 1.48%.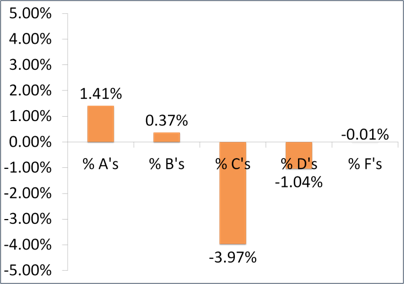 Grade distribution change using Squarecap everyday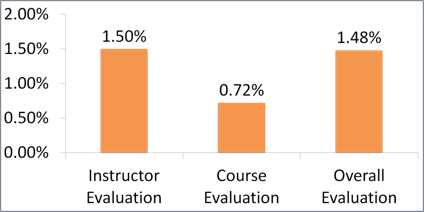 Instructor evaluation change using Squarecap everyday
While future studies will show Squarecap's direct influence on graduation rates, the results of this study demonstrate that increased faculty-student engagement positively affects students' academic achievement and course evaluations. It has also been shown that the use of Squarecap keeps students engaged in class, increases attendance rates, and leads to an overall increase in performance by the students.
Squarecap is an affordable solution for professors who are interested in maximizing the effectiveness of their instruction with a multi-function system that is easy to navigate. If professors can effectively implement this technology to increase student achievement, then no longer will they need to compete with the digital distractions which prevent students from learning, but will instead be using it to their advantage.
_____________________________________________________________________________________