Classroom Engagement Software Aids in COVID-19 Contact Tracing
by Stephanie Klenzendorf, M.Ed., on Nov 3, 2021 12:09:49 PM
While COVID-19 numbers are going up in some areas and down in others, it seems that we will be dealing with the effects of this pandemic for several years to come. Luckily, professors who use Squarecap now have an additional tool to help prevent the spread of COVID-19 in the classroom.
Depending on the state and local guidelines at each university, many professors were given the task to keep seating charts of their classes this fall. If an outbreak of COVID-19 were to occur, contact tracers at each campus could refer back to the chart, and alert students who might be at possible risk for contagion.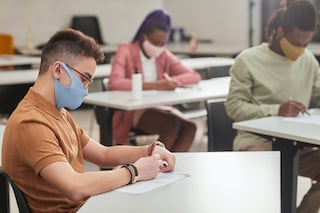 While some professors with small classes chose to use assigned seating, those who teach large classes realized that this was not a feasible solution, as there would be no way for them to verify if students were sitting in the correct seat. Some teachers were asked to keep a paper sign-in sheet that gets passed around the room for students to record their physical seat.
Debra Law, professor of history at Texas State University, has been successfully using the engagement features of Squarecap for the past several years, and was able to implement the seat map feature this year to collect data for contact tracing. Squarecap makes it very easy for professors to build their own classroom seat map, or simply add an existing seat map to their account. Students sign-in as they enter the classroom and either click on the seat or enter the seat number for where they have chosen to sit that day.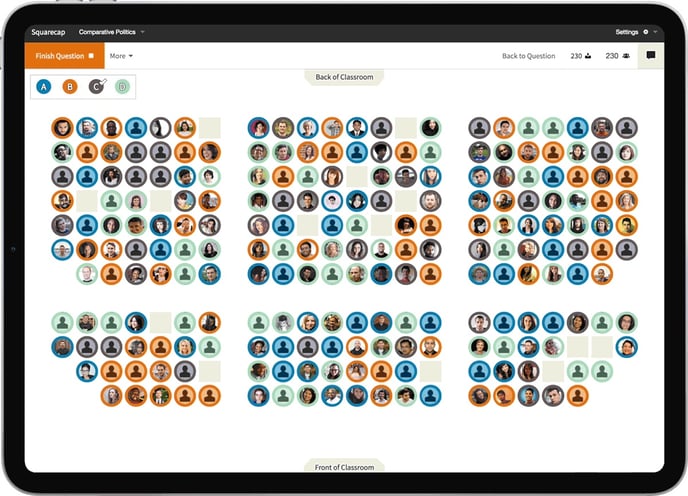 I would have previously had to walk around the room offering hand sanitizer to anyone who didn't have their own to try to make sure that the number of times that the paper changed hands would not create a virus-spreading contact situation. Now with the Seat map feature, I can avoid those contact points altogether." ~Debra Law, Texas State University
While the seat map feature was originally designed for the teacher to better understand how the class as a whole is performing on the assignment, as well as for automatic grouping, it can also easily be adapted for the purpose of contact tracing. The information is saved for each class period and student, eliminating the need for assigned seating in most cases.
Professors can bring up this seat map at any time in the class to use for help with student names, engagement data, and automatic grouping. After class, a simple download of student information makes all of the seating chart information easily accessible. Contact tracers at the university can identify anyone who may have come into close contact with a student who has tested positive.
The beginnings of semesters bring extra challenges with our Covid-19 reality. With the emphasis on contact tracing, the Seatmap feature became this wonderful tool to quickly and safely create an account of everyone in the room." ~Debra Law, Texas State University
Squarecap is proud to provide this type of support for both professors and students to aid in their academic success and ability to prevent future infections from the COVID-19 virus.
For more insights on how to use technology to engage your students, visit us at https://info.squarecap.com , or continue the conversation on Facebook, Twitter, and LinkedIn.
Create your free teacher account here or sign up for a short demo to get your questions answered in real-time.