Empowering students to succeed in challenging times
by K. Sata Sathasivan, Ph.D., Co-founder and Chief Academic Officer, on Apr 11, 2022 10:52:27 AM
Four tips for helping students adjust to the rigor of in-person learning
Reposted with permission from OpenStax.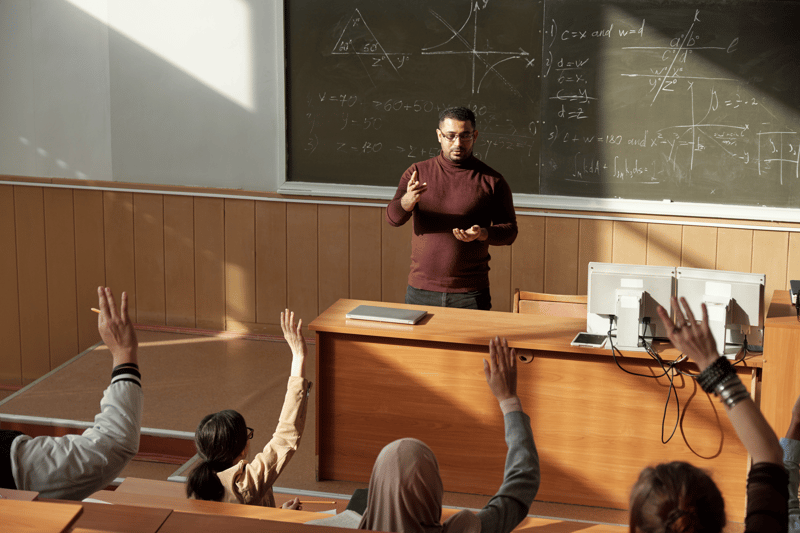 Pandemic times were hard for students, most of whom were learning online from home without personal instruction from professors, labs for practical experience, or meaningful peer interactions. Many students missed out on critical skills and concepts that are inherently difficult to teach via online platforms like Zoom. Students were initially eager to get back to in-person learning; however, both teachers and students are now reporting an overall sense of fatigue.
When examining the effects of the COVID-19 pandemic on students, the Department of Education reported significant inequities in education based on income, gender, ethnicity, and learning disabilities. Students with disabilities faced increased hardship in getting a quality education, and overall student enrollment decreased. Exams that were held online lacked the same rigor as in-person exams. There were no group studies or personal tutoring. Most importantly, students' mental health declined, as shown below, and financial insecurities increased.
Now that we are back in the classroom, we must be understanding of our students' learning needs and provide a support system to help them whenever they are struggling. Here are four tips to help students adjust to the rigor of in-person learning, reducing fatigue for both students and teachers.
1. Help students develop and stay in a routine
Although many students became accustomed to learning from home, there is a high correlation between those that attend class and those that can pass. Giving students an extra push to attend their classes in person can have a huge impact on their ability to learn. One way to do this is by using the IP tracking option and/or a join code in Squarecap to ensure students are physically attending. Students who choose to log in from home do not receive credit for the questions they attempt to answer, which often results in near 100% attendance once students learn a routine. Teachers who use this often start class by asking questions about the assigned readings, which helps students understand the gaps in their knowledge. It has been shown that this type of metacognition increases student motivation because students feel more in control of their own learning.
2. Provide opportunities for struggling students to seek help
While there are always a few students in each class that consistently raise their hands to ask questions, the reality is that many students do not feel comfortable voicing their concerns in a room full of their peers. This can especially be true when a student is from a historically marginalized background, is new to the language, or has a history of learning disabilities. During the pandemic, many students actually became very comfortable with their ability to communicate with their teachers and peers using a screen, and that isn't something that needs to disappear entirely.
One way to replicate this in a classroom is to utilize the Ask & Vote feature in Squarecap, which allows shy students to ask questions without interrupting the lecture. Questions are anonymous on the student side, lowering the stakes for a student when asking a question while still letting the teacher know they need help. Teachers can also make use of the free-response question type, which allows all students to express their knowledge briefly or in long sentences. The resulting word cloud allows teachers to review student answers in real-time and discuss responses in a non-confrontational way. This simple yet effective tool helps promote discussions and allows teachers to answer students' questions and clarify their misunderstandings.
3. Address student misconceptions in real-time
One of the biggest blows to student morale can come when students believe they understand the material, yet do terribly on the first exam. It is therefore important for teachers to provide opportunities for students to practice the material in class so that they can preemptively address any severe misconceptions. The seat map feature in Squarecap allows teachers to see which students are getting questions right and which ones are consistently missing them. At any point, teachers can locate the students who are not getting the answers correct and provide an intervention to help when necessary. Some teachers even employ the use of Teaching Assistants to circle the lecture hall, offering support to students on each question as needed. This practice creates a classroom in which students feel comfortable seeking help when they are struggling and enables teachers to provide this assistance even in large classes of 300 or more.
4. Reduce anxiety by fostering a community atmosphere
Fostering a sense of community helps students feel comfortable seeking help from their teachers as well as from their peers. The seat map feature in Squarecap can also be used to facilitate peer learning by automatically grouping students based on their location in the classroom and their responses. The algorithm attempts to put students who answered the questions correctly with students who did not get it right. Students get a direct message with the name and picture of the person they are to pair with and directions on where to find them in the classroom, removing the anxiety that can come when students attempt to form their own groups. This practice of peer instruction utilizes the knowledge of students who understand the concepts and takes the pressure off of teachers to explain every question in great detail.
​​While the return to the real world will undoubtedly have a net positive effect on the mental health of our communities, we must be cognizant of the challenges our students will face, especially for those who have been impacted the most by the struggles of learning online. Proper implementation of available technology like Squarecap is essential for ensuring that every student has the opportunity to succeed.
If you want to learn more about Squarecap and how it can help in your teaching and improve student learning, please contact info@squarecap.com or schedule a time for a brief discussion with an Ed Tech Specialist.