What's New at Squarecap? - Fall 2020
by Stephanie Klenzendorf, M.Ed., on Jul 6, 2020 3:55:25 PM
Squarecap has been the trusted solution for classroom engagement and student success for thousands of users since we were founded in 2013 by an award-winning professor. A lot has changed in the classroom since then, but our commitment to serving the needs of our students and teachers hasn't wavered.
Over the past year, we have made some key enhancements that will make Squarecap even more efficient and easier to use. Since the stay-at-home orders began, we've been working very closely with our teachers and will be adding some additional features this fall to help make it easier to teach online when the need is there.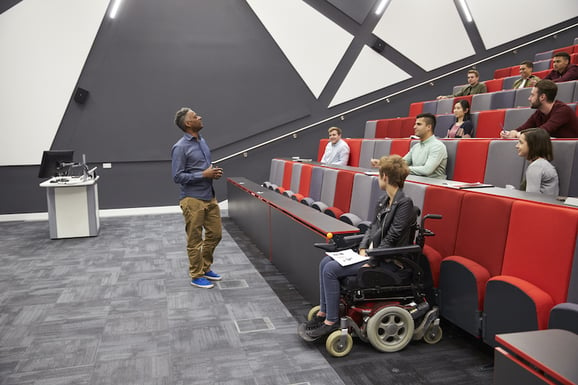 Blackboard, D2L, Sakai LTI support
Squarecap has the ability to integrate with all major Learning Management Systems (Canvas, Blackboard, etc.) which allows for a simplified experience for both teachers and students. We'll work with the IT department at your school to set this up so that your account is automatically integrated with no extra steps on your part. Read more here for more information on how to get your school connected.
Randomized Questions and Answers
In settings where Squarecap is being used for a quiz grade, teachers can prevent over-the-shoulder cheating by randomizing the order of open questions and multiple choice answers. This feature is also helpful for teachers who are using Squarecap to deliver assessments to classes that are meeting online. Learn how to enable this feature here.
Updated Grading
Our open response option provides a flexible format to ask both short and long response question types. Due to popular request, we have now added the ability to quickly and easily manually grade these open response questions through bulk grading of similar answers, with the option for partial credit. Teachers still have the option to give full credit for any response if they do not wish to grade every response.
Additionally, we have added the ability to drop the lowest X grades from the grade calculation so that a professor can simplify grade upload at the end of the year. For example, a professor may wish to grant 3 free passes to miss class without a grade penalty, and can now have that automatically calculated before uploading or downloading the cumulative score. We've also added some simplifications for teachers at LMS connected schools so that grade upload is even easier as well.
Simplifications for Course Settings
Teachers can now easily edit or delete a course or section by visiting Course Settings under the Settings at the top right of the dashboard. We've also added simplifications for section and course linking for teachers who need to do so. Read more here.
Updates to Roster View
We've enhanced the roster/grade book view with cumulative attendance counts and quick record editing. Teachers can now also sort students by Last name to more easily find specific students when needed. (Was previously sorted by First name only). Teachers can also view which of their students are unpaid, invited, and dropped.
Widget enhancements
The widget allows teachers to start and stop questions without leaving their presentation screen or requiring a PowerPoint upload to our site. Teachers using the widget can now click on distribution to grade a question, simplifying the process of adding a question by a screenshot. We've also added the ability to display the join code directly from the widget, updated the screenshot feature, and made general stability enhancements
Updated Attendance Tracking
We've also added some simplifications to attendance tracking including the removal of 0s and Os from join code to reduce confusion during sign in.
Coming Soon!
In light of the Covid-19 pandemic, we've decided to add a few make features to make things easier for anyone who will be teaching online during the fall semester and beyond. Look for these features to be released sometime this summer!
Allow teachers to set automatic start/stop/publish times
Individual Student Time Limits
Assignment types (Homework, ICA, Quiz)
Add live student lists to multiple choice and numerical answer choices
Add instructor after-class replies and student after viewing to Ask and Vote
Would you like to see something else added to our development timeline? Email us at help@squarecap.com to let us know and we'll be in touch.